Bronze 24" x 14"
All bronze memorials produced by Affordable Markers are sand casted and poured with a memorial quality, statuary bronze alloy containing a minimum copper content of 87%. The plaque is finished with a brown background before all letter and ornamentations are fine buffed & highlighted. The entire memorial then receives a clear protective coat which both enhances and prolongs it's beauty.
Prices include the following:
Full Custom Engraving
Custom Design and Layout
Large Selection of Artwork
Proof of Layout
Free Shipping within the Contiguous US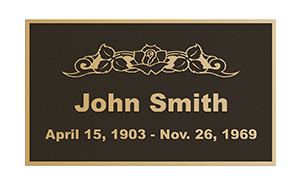 Before ordering, be sure to check with the cemetery for requirements such as; color, size, setting fees and delivery. Monuments are shipped unassembled to prevent damage during transit.