Slant 24" x 10" x 16" - Black
The Slant Marker sits in an upright position and gives the appearance of the more expensive upright without the high cost. The Slant Markers come with a polished face, and have rock pitched edges. We offer many size and design options. Prices start at $690, shipping included within the Contiguous US. Clicking the "Get Started" tab will take you to our design program where we will guide you step by step in creating a beautiful one of a kind Memorial for your loved one.
Prices include the following:
Full Custom Engraving
Custom Design and Layout
Large Selection of Artwork
Proof of Layout
Free Shipping within the Contiguous US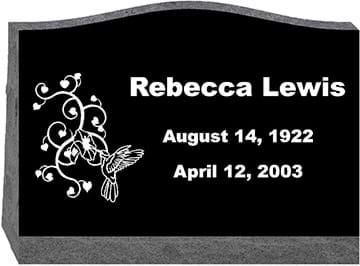 Before ordering, be sure to check with the cemetery for requirements such as; color, size, setting fees and delivery. Monuments are shipped unassembled to prevent damage during transit.