Upright Cross
This cross stands 42"tall and is 24"wide by 6"thick. Both front and back are polished. The sides have a rock-pitched edge. The base dimensions are 34"wide x 12"deep x 6"thick. Available in many colors, shown here in grey. The listed price is for Gray.
Prices include the following:
Full Custom Engraving
Custom Design and Layout
Large Selection of Artwork
Proof of Layout
Free Shipping within the Contiguous US
Additional costs include: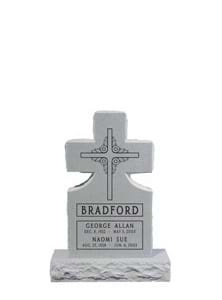 Before ordering, be sure to check with the cemetery for requirements such as; color, size, setting fees and delivery. Monuments are shipped unassembled to prevent damage during transit.
Available Colors